We are TITANS freelancers and we have been providing IT freelancer outsourcing services for over 9 years.
We are innovative. We are independent. We are fair and straightforward. We are TITANS! We provide extra muscle to IT projects that lack the right people. We offer freelancers projects they can be proud of. We cooperate with more than 300 global companies in Slovakia and abroad.
These numbers speak for us:
More than 13 800 available IT specialists
More than 1 270 allocated TITANs
189 010 man-days supplied
Extra muscle for 1 016 IT projects
Not enough? Stop by or call us and we'll tell you more.
OFFER FOR COMPANIES
Do you need flexibility in managing the size of your IT teams, extra IT specialists ASAP, or lower personnel costs? TITANS freelancers offers extra muscle for your IT projects. We will help you expand your internal teams quickly, professionally and easily. Highly qualified TITANs are the right reinforcements for your projects.
Our company is a strong and reliable IT outsourcing partner. We guarantee professionality, fairness, individual approach and commitment. Don't waste your time with long recruitment processes. We will pre-select the right candidates for you so you can focus on your core activities.
For more information about cooperation with us and our services, see the Companies section.
OFFER FOR IT FREELANCERS
Are you interested in freelancing, but you don't know how and where to start? Leave it to us!
We are here for those who want to step out the line and enter the real world of IT freelancing with a helmet coat of arms on their chest. We will help you experience the freelance IT world of direct communication, relationships and solidarity that we have created together and improve every day.
We will also advise you on accounting, too. Those are two sides of one coin.
If there is challenge in your DNA, don't hesitate to join the TITANS.
See the IT Freelancers section for more information.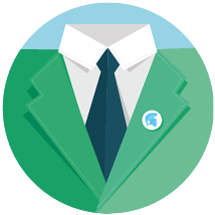 CODE OF ETHICS
TITANS FREELANCERS
1. RESPONSIBILITY
We comply with all laws, legal regulations and contractual provisions.
We comply with ethical rules, we act honestly, we foster the company's reputation and our behaviour does not diminish its public credibility.
We prevent situations that might lead to a conflict of interest.
We benefit from our business experience and our cooperation with partners is always based on applicable laws and moral principles with a clear goal to strengthen and preserve the public reputation of TITANS freelancers in Slovakia and abroad.
2. RESPECT
We respect distinctiveness, individuality and uniqueness of each person (gender, race, age, health, nationality, ethnicity, sexual orientation, religion and political beliefs).
We protect the environment (print on recycled paper, recycle printer cartridges, process and send documents electronically).
One of the most important aspects of proper cooperation and communication is respect for fundamental human rights and freedoms. We place the same emphasis on protecting the environment, keeping in mind the future of next generations.
3. RELIABILITY
We pride ourselves on quick response and timely feedback.
We meet all our financial obligations.
We are constantly strengthening our financial condition and we avoid undesirable risks.
Our communication system is designed to always inform our partners in a due and timely manner. Our goal is to make TITANS freelancers a reliable partner in effective transfer of information and financial stability.
4. CONFIDENTIALITY
We comply with the Personal Data Protection Act and we treat personal data processing, as well as information obtained from third parties with special confidentiality.
We guarantee security of data and information by using available technology with the latest security features.
We respect the right to privacy. Personal data are used solely for the purpose for which they were provided with the consent of a third party.
5. CLIENT ORIENTATION
We listen to our clients in order to meet their requirements and expectations.
We have an open dialogue in order to build a sustainable relationship based on trust.
Professional conduct at every level of communication is a matter of course.
We always communicate openly and professionally with our clients. We build a long-term partnership based on mutual trust. We do it to establish trustworthy and forthcoming cooperation and to be a strong and reliable partner for our clients.
6. COMMUNICATION WITH TITANS
We appreciate the uniqueness of each freelancer and our communication is based on individual approach.
We are open to finding common solutions to situations.
Our communication is always forthcoming, although our demands are high.
We appreciate the uniqueness of each TITAN, so our communication is always based on individual approach. Although our demands are very high, our forthcoming approach in the search for common solutions is a matter of course.