In March, we took part in the global Most Loved Workplace survey organised by the renowned BPI Institute. The survey is a globally recognised tool for measuring employee satisfaction, collaboration, respect and sense of belonging in small and large companies.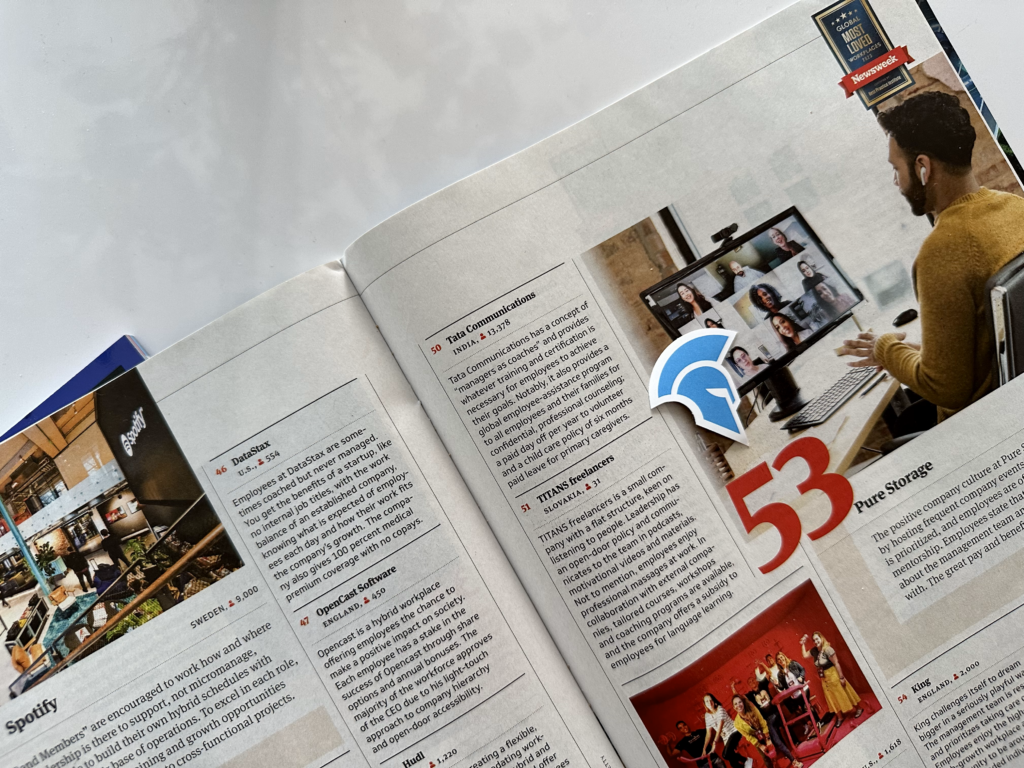 The BPI Institute, in collaboration with the Newsweek magazine, compiled the results into the Top 100 Global Most Loved Workplaces ranking, and we finished in a beautiful 51st place. We even outperformed global giants like PriceSmart, IPC Systems or Teleperformance with more than 410,000 employees.
What does it mean for us?
First and foremost, it's a great success. To be in a globally recognised ranking that evaluated data from thousands of companies means a lot to us. It also proves that our company climate is healthy and that our internal Titans and Titans feel good at their workplaces.
How does the survey work?
To begin, we completed our company profile and answered specific questions from the Love of Workplace Index™ model. This was followed by an online interview with the organisers. We talked in detail about how we work at TITANS, what are our values and what makes our company culture specific.
In the second part, the organisers interviewed our internal team. The criterion was that at least 33% of the employees participate in the survey. We wanted the data to be as objective as possible so we involved people from every department. In anonymous questionnaires, they answered questions about values, relationships, mental health or vision for the future. The responses resulted in our personal Pulse Validation with a very nice score for us.
The final step was to show that we also measure our corporate pulse dutifully when there is no survey. We provided the organisers with data from our regular Pulse-checks which have been used to uncover any hidden sentiment and to continuously improve our corporate environment for several years now.
…and then we just waited impatiently until one morning in June we received this e-mail:
Thanks for your patience, and Congratulations!
We submitted TITANS Freelancers as one of the 2023 Top 100 Global Most Loved Workplaces to Newsweek!
Why did we make Top 100 Global Most Loved Workplaces?
Here are the highlights:
1. We build a healthy and inclusive environment where everyone can be themselves.
2. We make all decisions in line with our company values.
3. We respect everyone's opinion and ensure that everyone can express their views openly and without fear.
4. We offer everyone the opportunity to be involved in the decision-making process and to influence what happens in the firm.
5. We all understand how our work engagement contributes to our common goal and support each other in achieving it.
6. We help each other achieve our own partial goals and develop personally.
7. We strive to be honest with each other and always give each other constructive feedback. 
What is it like in practice? Our company culture and values are reflected in the following activities:
We choose local companies with high-quality products as suppliers of company materials, merch and gifts because our core value is quality.
We organise events, team-buildings and workshops to strengthen relationships and learn to understand and respect each other.
We connect with non-profit organisations and create volunteer projects to grow as people and use our potential outside the firm.
We collect and evaluate employee feedback on company events and decision-making processes using the Pulse-checks tool.
We have supported the Nevyhorení burnout prevention podcast and drew attention to mental health because we care about the mental and inner well-being of our employees.
Finally, we would like to thank our CEOs, Marek and Robo, and our CHRO Miška, who continuously improve and develop our Most Loved Workplace.
We would also like to thank Miška for involving us in the survey, preparing all the necessary materials, talking to organisers and doing lots of other things that helped our ranking.
Thank you.
26 282
Titans that have
joined us
603
Clients that have
joined us
374 582
Succcessfully supplied
man-days